December 17th, 2021 posted by mike under Therevox News, Workshop Updates.
To accommodate for the larger playing area in the ET-5, the outside dimensions had to change compared to the ET-4. This gave me the opportunity to rethink our Tweed Road Case and to ultimately design a better case for our synthesizers.
The Original Tweed Road Case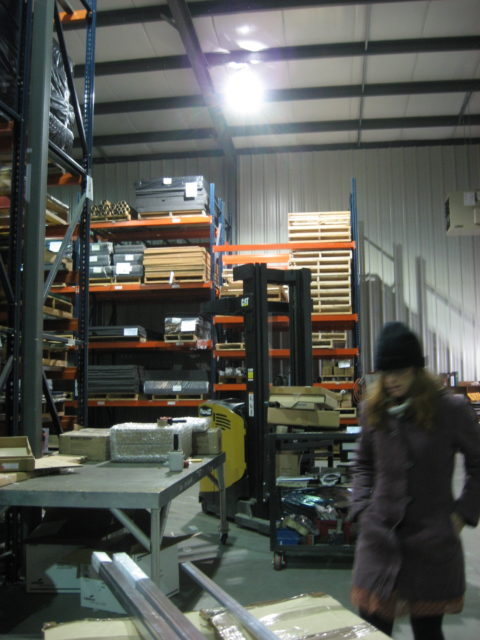 Melissa evaluating case hardware for the first case.
Designing our very first case and the ability to build it in-house was definitely an uphill battle. We wanted the perfect case. First we visited with a local flight case designer, whose heavy industrial cases are used by touring bands around the world. While the case certainly offered a lot of protection, they are extremely heavy with aggressive steel corners. We then met with case hardware manufacturers Penn-Elcom, whose headquarters is not to far from our shop. Their aluminum extrusion system looked ideal for the "every day case" that we had in mind. At the time, Melissa was doing a lot of textile work and we found ourselves in stores looking at various tweed fabrics. Once we figured out how to laminate that tweed onto the plywood sides of our new cases, the Therevox Tweed Road Case was born.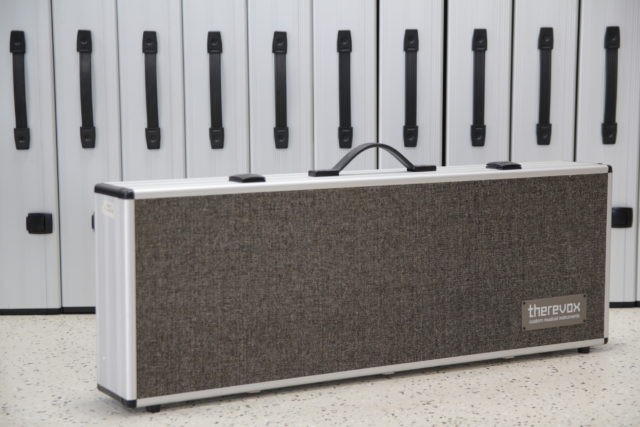 The final batch of Tweed Road Cases in the Therevox shop.
Approximately 50 cases were built from 2012-2018, with all of the inside foam cut with my Mom's electric turkey knife. While I am proud of our first attempt at building a case, there were a few issues that I wanted to address now that I was given the opportunity of redesign. The case was heavy, despite using hollow aluminum. The aluminum extrusions often arrived scratched from Penn-Elcom, forcing us to return many pieces and wait for replacements. While the accessory area allowed for the power supply and expression pedal to be carried, this resulted in a heavy case that was not comfortable to carry for long periods of time. In fact, during a trip to Montreal I had to improvise and add wheels to the bottom of the case to easily move it down streets and through subway stations.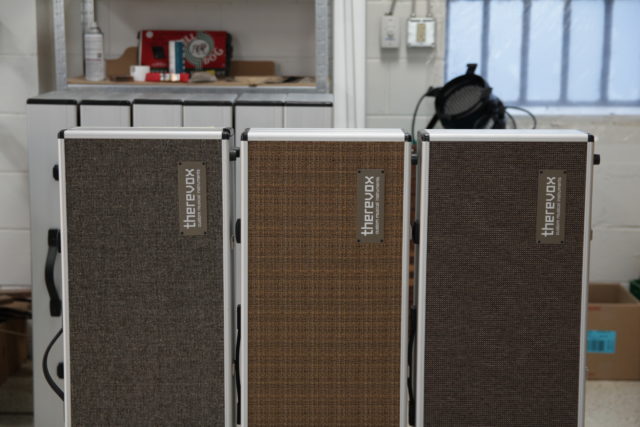 Our initial and subsequent tweed fabrics were discontinued, so the case was made in 3 variations from 2012-2018
The New Case Tweed Hard Case
For 25 years I have been carrying around my favourite guitar in a standard hard shell case and it has suited the job perfectly. I wanted the exact same style case but for the ET-5. We reached out to the Canadian manufacturer that made my guitar case and talked to them about building one for the ET-5. After we had our specs and drawings made up, we went to the task of finding a new tweed fabric that would match the new case styling. To make the case as small and light as possible, I decided to get rid of the accessory section of the case. It is still possible to fit the power supply and a few cables in the case on top of the ET-5 fingerboard, and the padded handle is a lot more comfortable than the old strap-stype handle.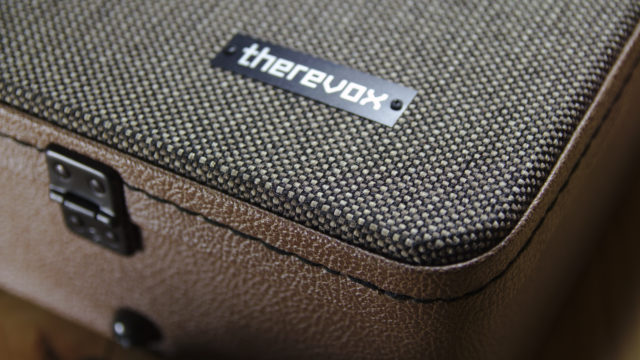 Anodized aluminum logo plate
We ordered hundreds of samples of fabric and tolex coverings and after going through them all, Melissa and I came to a very nice combination that I'm very happy with. The new case feels like a piece of vintage luggage and fits the ET-5 like a glove. While I am sad to see the old case go, this case is definitely an improvement.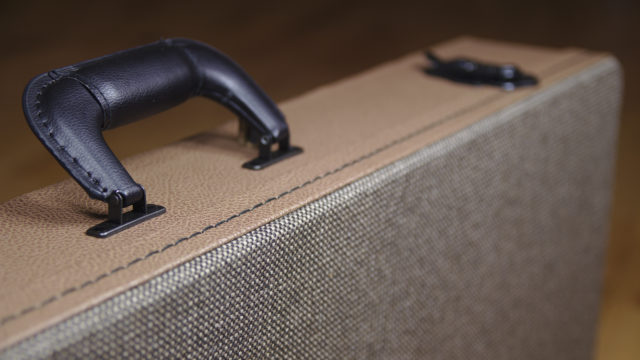 New padded handle and tweed fabric.
The new Tweed Hard Case is available now for $325 USD.