November 18th, 2013 posted by mike under Artist Profiles.
Mario Siperman is a producer and musician in Buenos Aires, Argentina. In addition to playing with Los Fabulosos Cadillacs, Mario is currently touring across South and North America playing Therevox and keyboards with La Estafa Dub.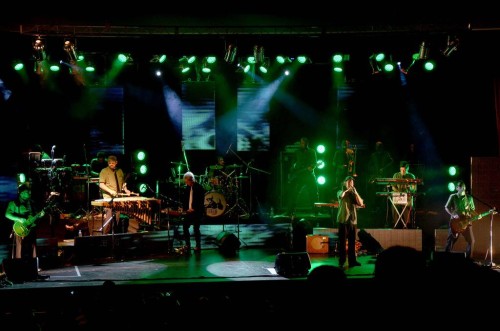 How did La Estafa Dub get started?
La Estafa Dub was formed in 2008, in Neuquen (Patagonik city from Argentina). Formed with Hector Navarro, Luis Ferri, Mariano Gonzalez and Juan Fort, and then we added Lisandro Parada. They were training the circuit of bars in the area.
Our style is characterized by the fusion of styles ranging from reggae to classical and electronic sounds subgenres through the freestyle, rock and jazz among others and always using dub as the link between all these styles. Some tracks are instrumental and some with vocals, the lyrics reflect the everyday reality in which we live. We currently have 4 records: La estafa dub y amigos (2009 DVD), La estafa dub (2011), Tomas directas en el estudio (2012 DVD) and 16 formas de ponerse de acuerdo (2013).
What are some of your dub influences?
Mad Professor, Lee Perry, Black Uhuru, Tricky, Massive Attack, The Wailers, Sly & Robbie, Thievery Corporation among others…
How do you fit the Therevox into dub music?
I think the big partner fort the Therevox in the styles of music that I like to play is the delay. I try to make textures without leaving the melodic. Always taking advantage of the characteristics of the instrument – It's natural portamento and the fingered vibrato.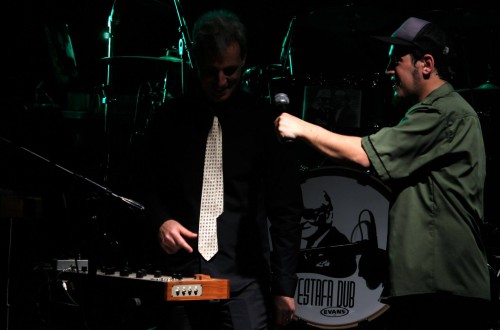 What are some of the challenges of doing dub music in a live setting, and what role does your sound man play in the mix?
I learned a lot of the spirit of dub music, with Steven Stanley, producer of Black Uhuru, Talking Heads, Tom Tom Club, etc. He worked on the Los fabulosos Cadillacs's album Rey Azucar, produced by Cris Fratz and Tina Weythmouth. He always maintained the spirit of the live performance,leaving things to be done in real time – In the studio, and improvisation with the effects!
Any effects that you use on the Therevox for dub music?
Always delays and reverbs are present in an exaggerated way, is part of the style.
Have you used the Therevox on any other projects?
Of course, I've also used the Threvox in an interesting project from two percussionists from Argentina, Jose Bale and Marcelo Garcia on a song called Medusa. Also a Swedish-French project called Uber Coca and a Spanish ska band called Dinamo. I've also made some solo recordings.
Any news on an upcoming Los Fabulosos Cadillacs album?
Yes, we are planning to make a new Fabulous Cadillacs record in 2014 or 2015.
Thanks for taking the time to talk with us Mario!
September 13th, 2013 posted by mike under Artist Profiles, Videos.
Martin Schiller uses the new ET-4.3 to make percussive sounds, samples them in Ableton and then plays them live through an Electro-Harmonix 2880 multi-track looper while layering on more tracks on the ET-4.3.
Therevox: What musical projects are you currently working on?
Martin: I play bass in the band What Seas What Shores and we have recently recorded some tunes we've been working on for the past 5 or so years. Brett Humber of Sound Foundry recorded us and we are excited to have it available for people to hear, which should happen relatively soon. I am also putting the final touches on the final instalments of my personal, truly experimental, solo project 87thingsforthefuture which I began over ten years ago. Not for the faint of heart when it comes to sound. I'm working on multiple other things that are in various stages of incompleteness, but will most likely post on my soundcloud page once finished.
Describe some of the things you've been doing recently with the Noiseborder Ensemble.
The Noiseborder Ensemble has been working with exploring the connection between sounds and visuals, and in my individual contributions I'm working with MAX/MSP to develop a simple concept of connecting music to drawing, like a paint application that is controlled with MIDI. Updates with video and more will soon be posted on the Noiseborder website.
You recently played in Germany, how was that?
Noiseborder did go to Germany this August to collaborate with Blackhole-Factory, and that was a lot of fun. Really cool artists, and fine people. We performed a variation on the modular piece Master Control which helped develop some ideas, and the audience seemed to enjoy what we were working on.
What gear are you currently using?
I have too many trinkets and doo-dads that make noise to mention, mostly old and used effects pedals, keyboards. The Electro Harmonix 2880 Super Multi-Track Looper is a very cool tool, which I feel I'm still getting the hang of. I have a Fender bass and amplifier.
What have you been listening to lately and what are some influences?
The last few Mouse on Mars releases come up a lot, Luke Vibert, Daniel Lanois, Battles, Grails, Bardo Pond, Secret Chiefs 3. I'm always trying to find obscure old stuff, and with global communication opening up so much over the last couple decades I've discovered a lot of cool, older music from all over the world, one really awesome dance band from Benin called T.P. Orchestre Poly-Rythmo de Cotonou are a group I can't get tired of. One last band I'll mention is The Riderless from London, Ontario. Over the years they have amassed quite a collection of improvised music and I really like their sound. I could type about music I like all day, but I'll digress.
You are also studying Music at University, how does the academic and creative side of music intersect for you?
Attending school has sort of focused my attention more on the technical/harmonic/theory aspects of music, I've grown a bit more of an appreciation for the old-masters of classical music, and the virtuosity inherent in a lot of it. I've also had to take a lot of non-music related courses as I finish up my degree, and that just bums me out that I can't dedicate that time to music. But I'm at home with that reality.
April 16th, 2013 posted by mike under Artist Profiles, Therevox News.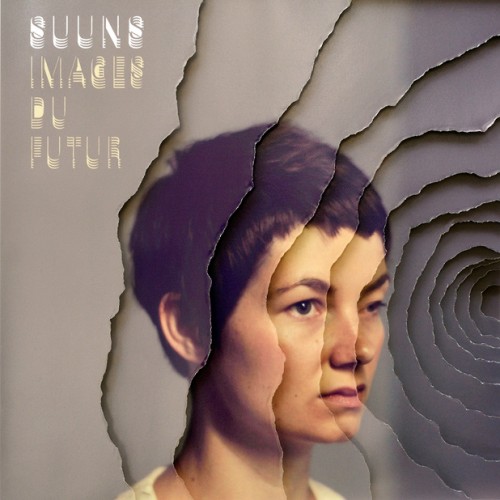 A few new records came out that include the Therevox ET-4. "Images Du Futur" by Suuns has been getting a lot of airplay on CJAM 99.1 here and I've really been enjoying it.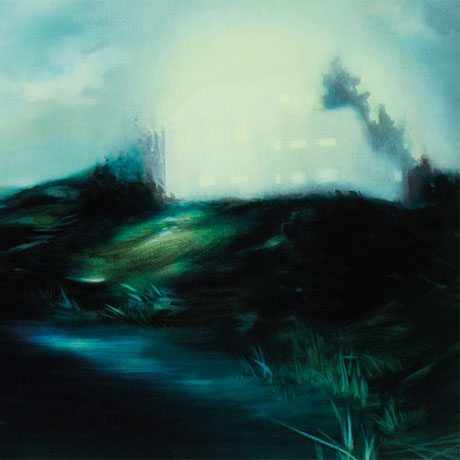 There is also a Therevox ET-4 on the newest album by The Besnard Lakes called "Until In Excess, Imperceptible UFO" that has also been on regular rotation in the Therevox workshop. Some very cool interviews with them can be found in the Montreal Gazette and La Presse (En Français).