January 27th, 2018 posted by mike under Therevox News.
Mark from Sprowt Studios came by the new Therevox Shop to shoot some video and have a chat. The video will be up soon, but in the meantime here is a transcript of the interview: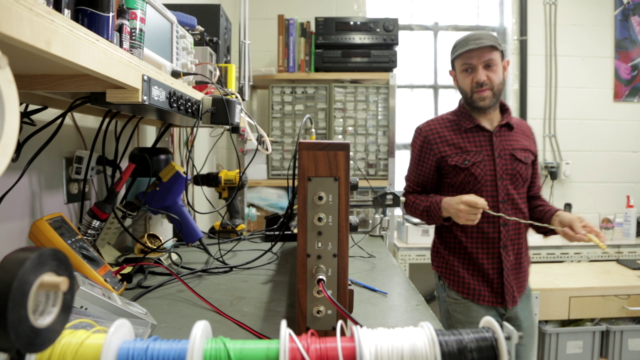 Mark: Ok, tell us your name, company and how long you've been working for.
Mike: My name is Mike Beauchamp from Therevox Custom Musical Instruments. Right now my main instrument is the Therevox ET-4 which there is 3 different models with different levels of features. I describe it as a vintage analog Minimoog meets and Ondes Martenot.
What did you change on this instrument compared to the Ondes Martenot?
I wanted to make this instrument so it never breaks down. In addition to the ring, later versions of the Ondes Martenot also had a keyboard but it was pretty fragile so I left that out and stayed true to Maurice Martenot's earlier versions of the instrument. Most Therevox customers own keyboards and synths that are a lot more powerful than the Ondes Martenot's single oscillator sound anyways. The beauty of the Ondes Martenot I believe is in the ring (au ruban) and intensity key (touche d'intensité), they are very expressive and unique. The Ondes Martenot used a fishing string on the ring so I re-engineered this to use a steel-core cable that we have custom manufactured so it will never slip, stretch or break. The Ondes Martenot's intensity key used a leather bag filled with a powder that had a very limited lifespan, so I redesigned this to eliminate that part and use something that will never wear out. I tried to keep the feeling of the instrument the same but use modern materials and engineering.
Creative people want to use tools that were crafted creatively.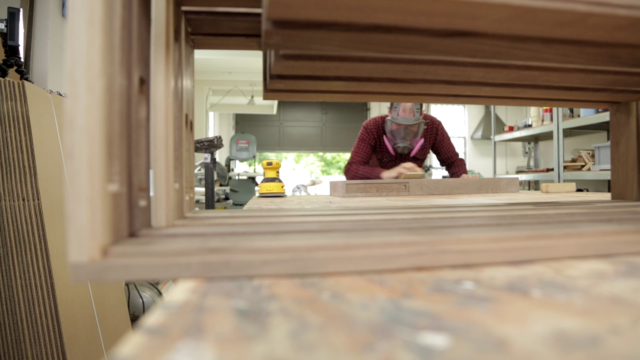 What did you add to the instrument?
Part of the design I did when I was in New Zealand, there's a bird there called a Tui that has two independent voice boxes. When I was designing this I always wanted it to have two independent voices that you can blend between as a two oscillator synth. I also thought it should have a filter and because your hands connected to the instrument, I brought the filter control out to an expression pedal so you can be controlling that at the same time to. Properly playing a Therevox has your entire body wrapped up; your right hand is controlling pitch, your left hand is controlling the amplitude of two different oscillators and your foot is opening and closing the filter at the same time. It's very involved, it's very full-body but you have control of every parameter while you're playing it. As a synth guy, I also added control voltage (CV) outputs for the ring and intensity keys to hook up to other synths.
What about those big resonator speakers from the Ondes Martenot?
Maurice Martenot was doing a lot of things to create reverberation, hanging large springs in front of big speaker cabinets or hooking speaker motors up to metal gongs and acoustic strings. I wanted to build a reverberation right into the instrument. I'm a big fan of old Fender tube guitar amplifiers and love the spring-reverb units that they use, so I incorporated one of those into all models of the Therevox ET-4.
You obviously put a lot of work into the design and construction of this instrument, can you talk a bit about that?
I'm just trying to make something as well as I can make it. I think people pick up on that. The design was really personal for us and it took a lot of time to get right. When an artist is in their very creative space, it's a space you have to put yourself into and it's hard and when you're there, you're vulnerable. The tools that you're given, I think they should have come from a similar space. Do you know what I mean? Creative people want to use tools that were crafted creatively.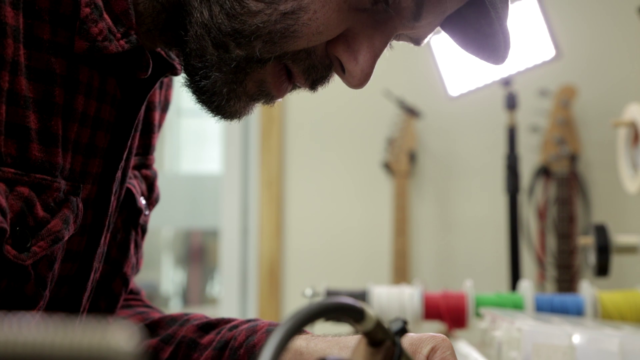 What are some of your favourite artists using the Therevox?
I don't even know where to start, the instrument has been used on a lot of genres and customers are kindly mailing me CD's to listen to in the shop. "Images Du Future" by Montreal band Suuns is always a favourite of mine, there's some great deep Therevox bass slides on that album. Most recently, I've been listening to Joan Shelley's new album that has some Therevox played by Wilco's Jeff Tweedy.