May 18th, 2020 posted by mike under Artist Profiles.
I listened to hundreds of hours of podcasts in my shop while building the 6th batch of Therevox ET-4's, from architecture and design, to hacking and linguistics. One of the most interesting podcasts I heard was a complete radio adaptation of "The Handmaid's Tale" done by Secrets, Crimes & Audiotape and I was fascinated for hours while planing, hand-sanding and finishing all of the wooden enclosures. I didn't know it at time, but one of the instruments I was working on was for composer Adam Taylor, who was getting ready to score the follow-up season to Hulu's Emmy Award winning adaptation of the same story.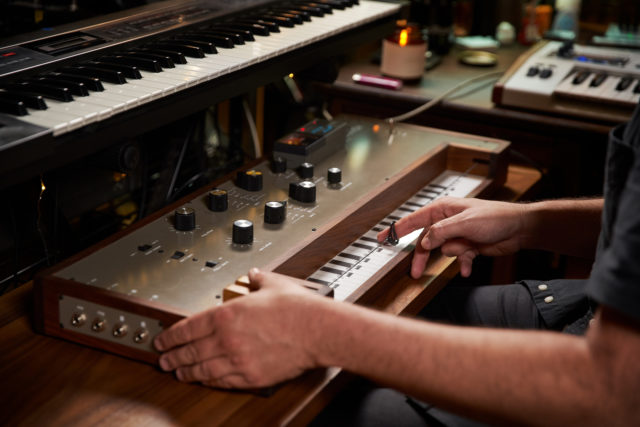 When Melissa and I were in Los Angeles last year to film Talking Synths, we met up with Adam in Long Beach, where he took us to one of his favourite cafes and then toured his nearby studio. He showed us his ET-4.1 set-up with Space Echo and his newest acquisition, a Roland Jupiter 6 that he found in France – a synthesizer he had dreamed of owning for years. After checking out out all of the interesting art on the walls we spotted a waterphone, a very cool instrument I've never seen before. Adam took the waterphone into his main studio and hung it from a ceiling hook, grabbed a nearby violin bow and rubbed it with rosin. As soon as he started eerily bowing the waterphone's metal rods, Melissa and I both immediately recognized the sound from Adam's work in "The Handmaid's Tale".
Were trying hard to not act like the huge fans of the show that we were. Somewhere in the outskirts of Hollywood a few days earlier we had spotted ads for the upcoming third season of "A Handmaid's Tale", something Adam later told us he was working 12 hour days on. One of the bus shelter advertisement boxes was left unlocked and tempted me to reach in and tactfully acquire the print with plans of having Adam autograph it. Thankfully, I had underestimated the size and weight of the poster and it did not accompany us to Long Beach.
Hearing a Therevox being played in movies, television and music has been an amazing reward that is second only to getting to meet our customers face-to-face. If you'd like to learn more about Adam Taylor, check out his interviews with Deadline and Composer Magazine and if you're into podcasts, he is interviewed on an episode of Mayday: The Handmaid's Tale Podcast.