March 3rd, 2021 posted by mike under Uncategorized.
My "ET-5" folder has files in it dating back from January 2018. It's hard to believe that the ET-5 has been in development for that long, especially considering that the instrument appears on first-glance largely the same as the ET-4 it is replacing.
The first sketches were all over the place. Extra knobs and features everywhere, some had keyboards, some had additional intensity keys and oscillators. These sketches lacked focus and were quickly abandoned. In the summer of 2018, Melissa and I were in New York attending the Hackers on Planet Earth conference and I had the opportunity to visit with several Therevox customers in the area. During the course of the next twelve months, we also visited customers in Montreal, Chicago and Los Angeles. Some of these visits became part of the Talking Synths video series, and some meetings just involved discussing composing, production, and gear – lots and lots of gear. Around this time myself and several friends co-founded "Signal Exchange", the local synthesizer collective focused on social discussion and group noise-making.
On the 7 hour flight back from Los Angeles, I nearly filled up my entire notebook with ideas and illustrations. I had shown sketches and ideas to my customers and received inspirational feedback from some awesome people. By the end of the flight, I had most of the nitty gritty details figured out – like how a voltage controlled FX loop mixer should work to preserve the trails of a delay pedal. After that trip, the design was very clear: Instead of re-inventing the wheel, the ET-5 was going to take the ET-4 reconsider every aspect and improve on it. No change for change's sake, no hype, just informed and tested improvements.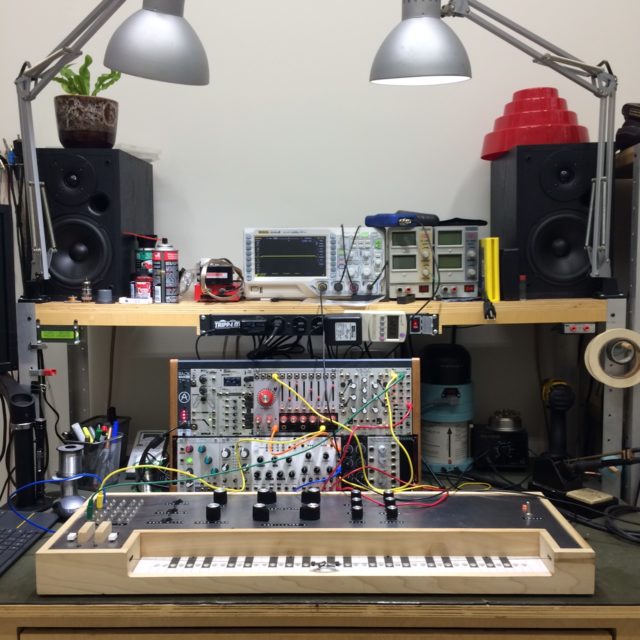 Above: The first ET-5 prototype test-bed with dynolabels, bare-steel panel and hardware store wood.
Being able to see how our customers use their Therevox and how it integrates with their music-making environment informed the design of the ET-5. Also the local synthesizer collective meetings have been a great resource for hands-on experience with new and vintage synthesizers. These meetings refined my taste in filters and contributed to the design of the new 3-pole filter, and was definitely responsible for the inclusion of a 5-PIN DIN MIDI output being added to the ET-5.
In the last few years I have also started delving deeper into the Ondes Martenot, an instrument that the Therevox owes much of it's expressiveness. When the ET-4 was designed in 2010, documentation of the Ondes Martenot was sparse at best. Since that time, I have translated academic literature, books and papers to better understand the Martenot and do it justice while moving the sonic possibilities towards something new. This research informed the redesign of the intensity keys and ring. The feeling of the new intensity keys provides a progressive tactile resistance that increases proportionally with output amplitude in a curve similar to the original Ondes Martenot. The ring has also been redesigned to significantly reduce friction, making the movement easier and faster and more accurate. This required designing several new custom parts, but it was definitely worth it.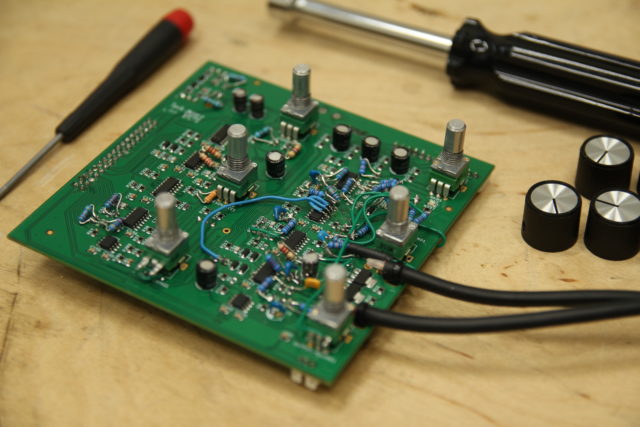 Above: An early ET-5 prototype circuit board after many changes.
In 2010, the ET-4 was laid out and designed on graph paper with a pencil and eraser (with eraser shield!) and then transferred to 2-dimensional CAD. At Knobcon 2018, I met with Roger Linn and during a discussion about design he strongly recommended that I move to a full-fledged 3-dimensional CAD package moving forward. This made designing the ET-5 a lot more immediate: being able to visualize new parts and layouts immediately. This also let me use available space more efficiently and allowed for more than half-octave of extra fingerboard room on the ET-5. If there is any drawback to computer aided design, it becomes apparent if you are a perfectionist. I spent months moving knobs and switches around by the millimeter until Melissa and I agreed that the instrument had a visual balance and rhythm.
Now that the first ET-5 is finished, we will be finishing up several more that are going to the first people on the waiting list for further testing and feedback. After that, any changes will be made and we will start on the first full-scale production run. Like the ET-4, the ET-5 Series will consist of several models so we can make models available at more affordable prices with different features. Those that sign up for the Waiting List will be able to choose what model they want before the build starts. We will also revisiting the design of the Tweed Road Case and eventually the EXP-1 Expression Pedal to make improvements and posting more progress pictures to our instagram.