November 18th, 2013 posted by mike under Artist Profiles.
Mario Siperman is a producer and musician in Buenos Aires, Argentina. In addition to playing with Los Fabulosos Cadillacs, Mario is currently touring across South and North America playing Therevox and keyboards with La Estafa Dub.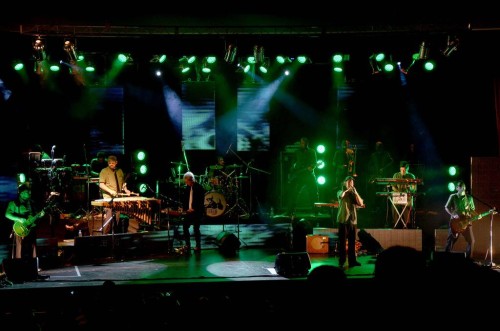 How did La Estafa Dub get started?
La Estafa Dub was formed in 2008, in Neuquen (Patagonik city from Argentina). Formed with Hector Navarro, Luis Ferri, Mariano Gonzalez and Juan Fort, and then we added Lisandro Parada. They were training the circuit of bars in the area.
Our style is characterized by the fusion of styles ranging from reggae to classical and electronic sounds subgenres through the freestyle, rock and jazz among others and always using dub as the link between all these styles. Some tracks are instrumental and some with vocals, the lyrics reflect the everyday reality in which we live. We currently have 4 records: La estafa dub y amigos (2009 DVD), La estafa dub (2011), Tomas directas en el estudio (2012 DVD) and 16 formas de ponerse de acuerdo (2013).
What are some of your dub influences?
Mad Professor, Lee Perry, Black Uhuru, Tricky, Massive Attack, The Wailers, Sly & Robbie, Thievery Corporation among others…
How do you fit the Therevox into dub music?
I think the big partner fort the Therevox in the styles of music that I like to play is the delay. I try to make textures without leaving the melodic. Always taking advantage of the characteristics of the instrument – It's natural portamento and the fingered vibrato.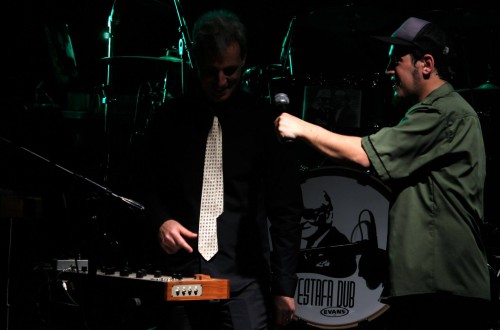 What are some of the challenges of doing dub music in a live setting, and what role does your sound man play in the mix?
I learned a lot of the spirit of dub music, with Steven Stanley, producer of Black Uhuru, Talking Heads, Tom Tom Club, etc. He worked on the Los fabulosos Cadillacs's album Rey Azucar, produced by Cris Fratz and Tina Weythmouth. He always maintained the spirit of the live performance,leaving things to be done in real time – In the studio, and improvisation with the effects!
Any effects that you use on the Therevox for dub music?
Always delays and reverbs are present in an exaggerated way, is part of the style.
Have you used the Therevox on any other projects?
Of course, I've also used the Threvox in an interesting project from two percussionists from Argentina, Jose Bale and Marcelo Garcia on a song called Medusa. Also a Swedish-French project called Uber Coca and a Spanish ska band called Dinamo. I've also made some solo recordings.
Any news on an upcoming Los Fabulosos Cadillacs album?
Yes, we are planning to make a new Fabulous Cadillacs record in 2014 or 2015.
Thanks for taking the time to talk with us Mario!